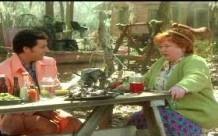 YEP, that picnic table in the movie, The Waterboy, is made out of cypress cut by Bushnell Sawmill! So was the family "cabin" and other props.

Our lumber has also appeared in the major motion pictures Striptease, Rosewood and more!

FOR INQUIRIES, CALL 352-793-2740 OR FAX (352) 793-2740.

We are located near Bushnell, Florida, between Ocala and Tampa, 3 1/2 miles west of I-75, (exit 314) at 5178 W C 48, Bushnell, FL 33513.